GM! Welcome to the dHEDGE Monthly community newsletter. In this publication we will outline all the news, developer updates, media, upcoming events and much more!
The speed of innovation in DeFi is truly amazing. From brand new protocols, new chains, yield farming, NFTs and more! It can be extremely hard to keep up, but that is where dHEDGE can be the solution. dHEDGE Managers can create advanced strategies by utilizing the integrated protocols on multiple EVM compatible chains, so as an investor it really is set and forget.
News
dHEDGE DAO has raised $2m in a DAO Treasury Diversification round
Including: Synthetix, Mask Network, 0xVentures, Meld Ventures, Ellipti, Rob Salha - Co-founder of Zed.Run
dHEDGE Major Upgrade
dHEDGE has just completed a major protocol upgrade! AAVE and 1inch are now available for managers with Balancer and Quickswap soon.
DHT staking rewards rollup
All unclaimed DHT tokens have now been aggregated into a single claim. This has significantly reduced the gas costs. Going forward DHT rewards for both staking and performance mining will be available every 4 weeks.
Governance proposals passed
---
We hosted a really interesting event and got some great insight and alpha from the big players in DeFi.
Check out the recording:
dHEDGE V2 and Developer updates
Follow the roadmap and features requests at dhedge.canny.io
UI changes:

Borrowed funds on pool page

Health factor on pool page

V2 tutorial for managers

New assets available soon: BAL, CEL, COMP, MANA, QUICK, UNI and YFI

Internal testing on Arbitrum deployment is underway

dHEDGE Stablecoin yield(dUSD) now farming USDC-FRAX plus earning performance mining rewards 30% APY

Balancer integration planned within 2 weeks

Exit in a single asset undergoing testing

In app notification system is live - deposits, withdrawal, new pool posts and replies

Manager bot service now available - automatically complete trades utilizing TradingView alerts. See guide: How to trade using TradingView
Media

1/ Check out the new

#dHEDGE

Stablecoin Yield(dUSD) page! 👉
app.dhedge.org/dusd
👈 🔥Currently farming $FRAX - $USDC to earn +21% APY! ⚡️$dUSD algorithmically farms the highest supported stable pool on
@SushiSwap
It will switch pools to the highest yield available!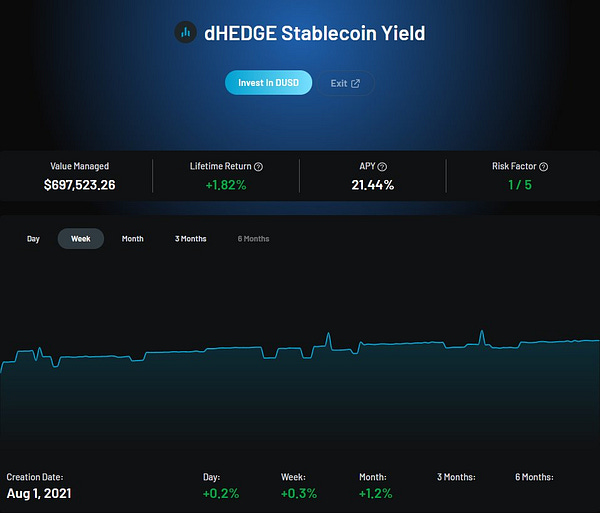 Events
dHEDGE Community call for October
Date and Time: 27th of October 1am UTC
Where: Discord voice channel
Contact us